Dental Implants
Rebuild Your Smile With Dental Implants in Westerville, OH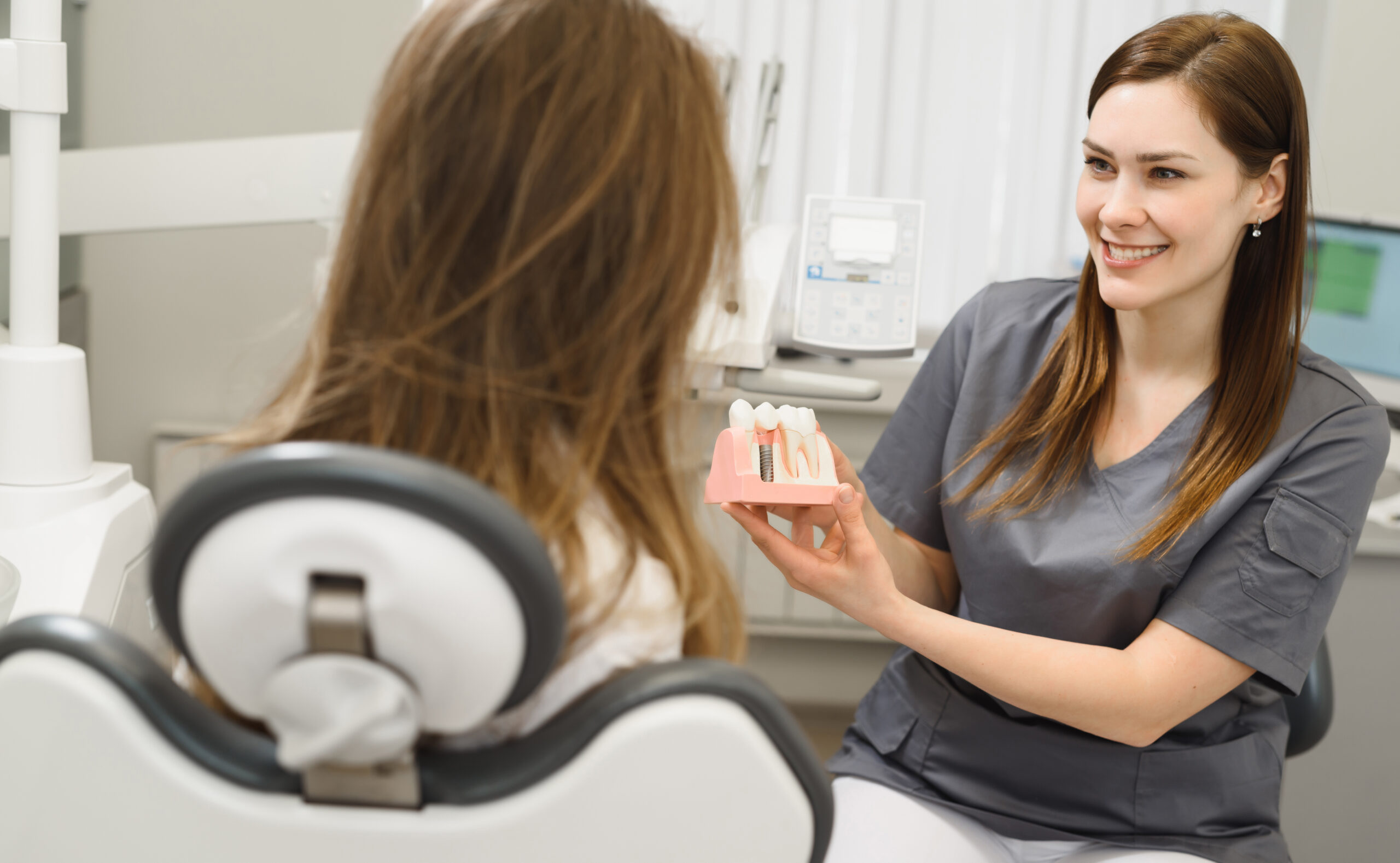 Losing baby teeth is a natural step in our growth and development process. It's when we start losing permanent teeth that the situation becomes more serious. Teeth can be lost for any number of reasons, including disease and infection, trauma from blunt force impact, or simply age.
As of right now, medical science hasn't yet found a way for us to regrow lost teeth, although researchers are getting closer all the time. Until they perfect a technique, dental implants are the next best thing, and we have great implant dentistry options for you!
What Are Dental Implants?
Dental implants, also known as tooth implants, are made up of three distinct elements. The first is actually called the implant. It is the portion of the restorative device that sits below the gumline of your smile, acting like tooth roots.
The implant holds the second element, or abutment, in place. The abutment is a connective piece that attaches the dental restorative to the dental implant. This restorative can be anything from a single crown to a row of teeth known as a bridge. It can also help hold up a whole new set of implant-supported dentures.
Our Westerville, OH dentists embed implants in your jaw, where they function like natural tooth roots. Then we attach a dental restoration of your choice to the implants, so your smile looks and feels great again.
Benefits of Implant Dentistry
Implant dentistry changes lives and smiles everyday. It's one of the most beneficial and useful restorative and cosmetic dental techniques available. When you choose to go with a dental implant from our team at Just Smiles in Westerville, OH, you can trust you'll be taken care of by professionals and have your smile restored to a beautiful whole.
Take a look at some of the benefits you'll enjoy with our tooth implants:
Help prevent bone loss. Bone deterioration happens after a tooth or multiple teeth have been lost. Your jaw bone needs something in that empty space to stimulate growth. Since dental implants stimulate your jaw like tooth roots do, they help prevent the bone deterioration that occurs when you lose teeth.
Keep teeth in place. When dental restorations are attached to implants, they'll stay put. You won't have to worry about your replacement teeth slipping or even coming loose, the way they might with traditional dentures. With dependable dental implants, you won't even need adhesive for this benefit.
Feel comfortable. Dentures, a common alternative to dental implants, tend to move around a great deal in the mouth even with the aid of adhesive. This can lead to discomfort for patients. With no rubbing against gums, most people find implants far more comfortable than dentures.
Make meals enjoyable again. Your bite will be nearly as strong as it was before. Eat whatever you want, from crunchy apples to juicy steak. Dental implants won't limit you on your food intake, and you won't have to worry about your teeth falling out or shifting uncomfortably during meal times.
Improve Your Oral and Overall Health. Dental implants promote bone growth and allow you a stronger bite for eating. Both of these benefits combined means that you'll enjoy a greater level of oral health as well as general health. Dental implants will keep your teeth and jaws fit and healthy.
Am I a Candidate for Implant Dentistry?
Our skilled team will be able to help you determine if tooth implants are the right option for you. Implants are a good option for many people, although they do require a bit of existing bone in the jaw in order for the implant to be initially supported.
There are options available to patients lacking sufficient bone in the jaw for an implant, such as bone grafting. With this simple method, bone will be added to the area the implant is being placed, and you'll be able to have the implant put in.
Get Your Entire Dental Implant Procedure in One Place
Sometimes dental implants need a bit of maintenance work, just like any other part of our bodies. Not every dentist office or dentist is equipped with the knowledge or skill to do this. Luckily, our dentists both place and restore implants, so you can get your entire dental implant procedure at our Westerville, OH, office.
With their advanced training in implant dentistry and their experience in placing countless implants, our dentists can help you determine the right solution for your smile.
They can perform specialized procedures including the All-on-4® treatment concept, which involves attaching a full arch of replacement teeth to four implants. You can remain fully relaxed throughout your procedure with dental sedation, with your choice of either oral sedation or IV sedation.
Implants Can Replace One Tooth or Many Teeth
Whether you're missing one tooth or all of your teeth, we can use versatile forms of implants to rebuild your smile. Depending on your situation, you can get:
A single tooth implant. To fill the gap in your smile left by a single missing tooth, we'll attach a dental crown to your implant.
Dental implants with a fixed bridge. A bridge attached to implants can replace several missing teeth. Unlike traditional bridges, we won't have to modify any healthy teeth.
Full-mouth dental implants. Dentures can be attached to implants in your upper or lower jaw, or both. They won't slip like traditional dentures and will make it easier to eat.
You can trust us to help you figure out the right type of dental implants for you.
How Much Do Dental Implants Cost?
The cost of dental implants will depend on a number of factors: how many implants you're getting placed, whether additional procedures such as bone grafting are needed, or more. The cost could go up with multiple tooth implants or the All-on-4® treatment concept.
Your cost will depend on where in the country you're having your implants placed, how many you need, what procedures you'll require, and the individual costs set by your dentist.
Your Tooth Restorations Are in Good Hands at Just Smiles
Discover More About Dental Implants with Just Smiles in Westerville, OH
Get in touch with us today with any questions or concerns regarding dental implants. We look forward to discussing your options and creating the perfectly restored smile you deserve.
Related Pages