Return Your Gums to Health With Nonsurgical Gum Disease Treatment in Hilliard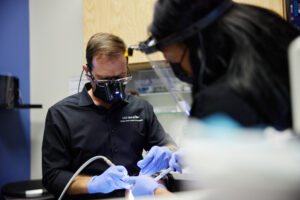 Unhealthy gums can cause you to lose your teeth – which is why gum disease is such a serious threat to your oral health. It's the leading cause of tooth loss among adults, and it's quite common. Half of American adults have some form of it, according to the CDC. Our dentists check for signs of it during every dental exam. If they find any, they use nonsurgical gum disease treatment in Hilliard to get your gums healthy again.
We'll treat you with a deep cleaning procedure called scaling and root planing that:
Removes bacteria-filled plaque and other harmful substances from above and below your gumline
Smoothes your tooth roots to make it easier for your gums to heal
Keeps your gums from receding and reduces your risk of suffering from bone and tooth loss
Restores your gums' healthy appearance
If your gums are bleeding or you are experiencing other gum disease symptoms, call us ASAP at 614-363-0030.
Minimize Damage by Treating Gum Disease in Its Early Stage
While you may experience unpleasant symptoms like bleeding gums and bad breath in the earliest stage of gum disease, called gingivitis, there won't be bone loss or irreversible tissue damage. We can usually eliminate the disease with a standard dental cleaning.
If the disease advances to the periodontitis stage, gums pull away from teeth and create "pockets" that fill with bacteria. Your body fights the bacteria, which can damage the bone and tissue that keep your teeth in place. We'll thoroughly clean above and below your gumline to prevent this from happening. Since we use a laser, you'll experience minimal discomfort and a speedy recovery.
To detect gum disease in the early stage, we look for signs of it in every exam, including:
Swollen gums
Teeth sensitivity
Changes in tooth alignment
Development of pockets
There's no need to worry about discomfort with our treatment. We'll use local anesthesia so you won't feel a thing. We can also provide dental sedation if you need it.
If you think you need nonsurgical gum disease treatment in Hilliard, call 614-363-0030.