Get Your Smile Back With Implant-Supported Dentures in Hilliard, OH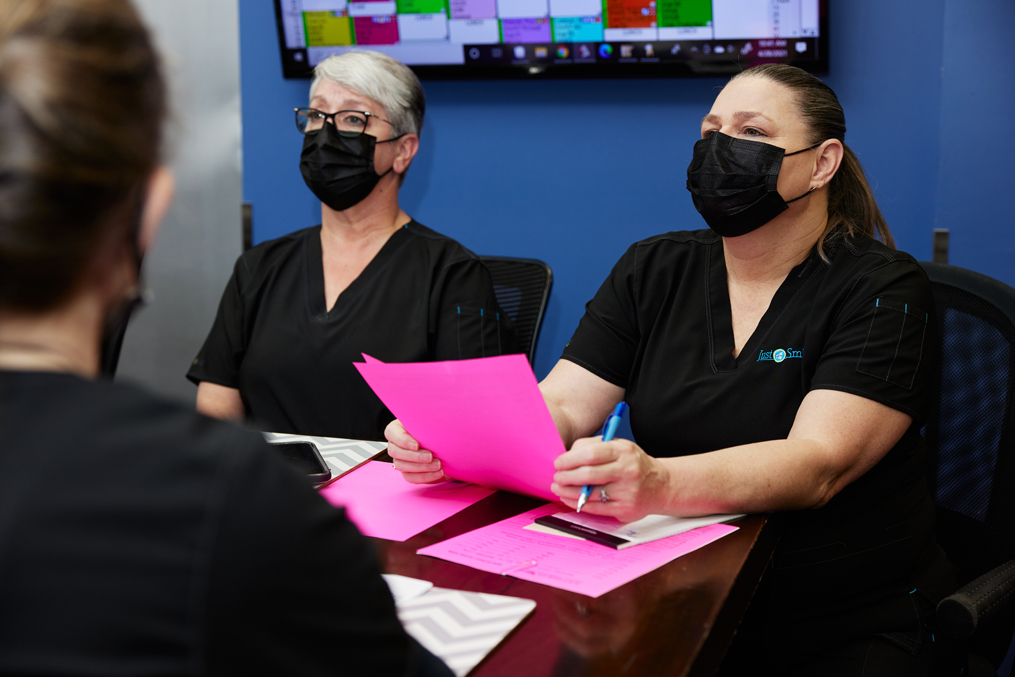 If you or a loved one is currently struggling with multiple missing teeth or a complete absence of teeth, we have solutions for you. Living without teeth isn't something anyone should have to do. Dentures have long been the solution to that particular issue, and today we are pleased to be able to offer an even better solution: implant-supported dentures.
With implant-supported dentures, our Hilliard, OH, dentists can:
Replace multiple missing teeth or all your teeth.
Restore your full oral functionality.
Improve your health by diversifying your diet.
Make your face look fuller and younger.
Implant Dentures Offer Many Benefits
If you want dentures that feel and function just like normal teeth, we suggest attaching them to dental implants. They look, perform, and feel like your natural teeth, with all of the following benefits:
Avoid bone loss. Losing teeth normally results in losing jaw bone density, but implants will keep your jaw healthy and strong.
Keep replacement teeth in place. Implant-secured dentures won't slip or become loose. They'll stay put without adhesive.
No complicated cleaning routine. Depending on the type of replacement teeth you choose, you'll most likely be able to keep them clean with simple brushing and flossing.
Choice of removable or fixed. You can get whole mouth implants that remain attached to implants all the time, or ones that you can remove for cleaning.
Removable Implants vs. Permanent Denture Implants
Denture implants offer a more secure, lifelike restorative option for replacing an entire set of missing teeth. You can select from multiple types of denture implants, including removable implant dentures and permanent denture implants.
Removable Implants
Removable implant dentures are supported by a more secure system than the dental adhesive used for traditional dentures. Four attachments on the dentures themselves are made to snap into place on the implants placed in the jaw.
This is a good option for patients who might not want to spend as much as permanent dentures would cost. They also keep teeth secure and stable, so there won't be any falling out or shifting. They're easy to care for and clean as well.
Permanent Implants
Permanent denture implants are secured in place the same way, just without the snapping in and out feature that comes with the removable option. Though this procedure tends to cost more, patients will enjoy a full set of teeth that act and function just like normal teeth.
With permanent implants, you can have total confidence in the stability of your new teeth. You won't ever have to worry about them not being exactly in the right place, or removing them for cleaning.
All-on-4® Treatment Concept Denture Implants
Dental technology and techniques have advanced so far that we are now able to place an entire upper and lower set of dentures with just four implants. This type of whole mouth implants are known as All-on-4® treatment concept dental implants. Through the strategic placement of the four implants, you'll be able to enjoy a full, secure set of teeth at a much more affordable price.
The Implant Dentures Process
The first step in the process is to schedule a consultation with your dentist. Following that, you'll decide on which type of implant dentures you want. Then very detailed and precise images of your mouth will be taken through x-ray and other imaging technology.
At Just Smiles, we'll use advanced technology including our CT scanner and surgical guide to make sure the right implants are selected for you and placed properly. You'll then have a temporary denture created for you, which will be put in place on the implants while your permanent one is being created elsewhere.
The first procedure will place your implants, the second will attach the prosthetics to the implants. The final step will be fitting your permanent dentures in place. Everything from the initial diagnosis to the actual placement of your denture implants can be done in-office, so you'll enjoy continuity of care with our dentists.
Restoring Your Smile With a Highly Qualified Dental Team
Learn More About Your Implant-Supported Denture Options Today
To find out more about implant supported dentures options and whether or not you qualify for the treatment, get in touch with our team at Just Smiles in Hilliard, OH today.