Repair Your Damaged Smile With Restorative Dentistry in Hilliard, OH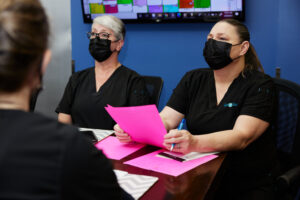 Most of us never realize how useful our teeth are, or how much they affect our self-image, until we lose or damage teeth. Dental damage makes you reluctant to show your smile, and it makes it tough to eat and even speak. Fortunately, restorative dentistry from Just Smiles can give you back what you're missing.
Or restorative dental care will:
Bring back your strong bite so you can eat all kinds of foods
Prevent further damage from occurring
Help you smile confidently again
Enable others to easily understand your speech
We're so confident in the quality of our crowns and other dental restorations, we offer a warranty on our work! We use only non-toxic, environmentally safe, mercury-free materials. We can even combine cosmetic and restorative procedures for a complete smile makeover.
Whether you need to fix a single tooth or repair your entire smile, we can help. If you're ready for a smile as good as new – or even better – call Just Smiles at 614-363-0030 to meet with a skilled Hilliard, OH dentist.
You Have Several Choices If You Have Missing Teeth
Missing teeth don't just affect your mouth, they affect the rest of your body too. If you can't eat nutritious foods like fresh fruits and vegetables, your health will likely suffer. Not to mention, it's hard to feel good with gaps in your smile.
We offer multiple ways to replace teeth and resolve these issues:
Dental Implants – Our dentists can restore these replacement "tooth roots" with the dental restorations of your choice. Your replacement teeth will feel and function like your natural teeth.
Dental Bridge – We can replace a single tooth or several missing teeth with a fixed bridge. Care is convenient because it doesn't need to be removed for cleaning.
Dentures – Partial dentures work well if you still have teeth remaining. Full dentures are whole-mouth teeth replacements. We can attach them to dental implants so they'll stay securely in place.
Recover Your Oral Function With Restorative Dentistry Procedures
If you need teeth repaired, not replaced, we offer these procedures:
Tooth Fillings – Our mercury-free fillings are tooth colored, so they blend in easily with your smile.
Dental Veneers – Applied to the front surfaces of teeth, veneers fix chips, minor breaks, and other damage while strengthening your teeth.
Root Canals – A root canal procedure removes infection from the center of your tooth, relieving your pain and protecting the tooth.
Dental Crowns – Crowns can mend many different kinds of damage, including breaks, cracks, or extreme decay. We can use them for cosmetic fixes too, such as stained or misshapen teeth.
Inlays and Onlays – For cavities that are too large for fillings but not big enough for crowns, these dental restorations are "just right."
To learn more about restorative dentistry, call 614-363-0030 or use our online form. You'll find our Hilliard, OH dentist office at 1921 Hilliard Rome Road, 43026, near Hilliard Rome Commons.