Restore Oral Health With Tooth Removal in Hilliard, OH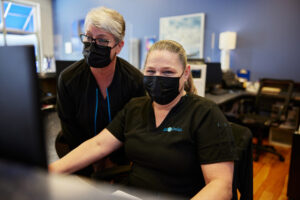 Few people are excited about tooth removal in Hilliard, OH. Yet it is sometimes the only option for dealing with a badly damaged tooth. In addition, it may be necessary to prepare you for other treatments such as dentures or orthodontics. Fortunately, our highly trained dentists have performed countless oral surgery procedures.
In addition to skilled practitioners, our office features:
Advanced technology like 3D imaging that makes us aware of possible complications before your procedure begins
Two kinds of sedation, one of which will be right for you
Extended hours, so you can come in at a quiet time for your procedure
Many teeth replacement options, including dental implants, so you'll have plenty of choices to restore your smile
If you think you may need a tooth extraction, call us at 614-363-0030.
From Simple to Complex, We'll Handle Your Tooth Extraction
Many dentists will remove teeth – but only if the extraction is an uncomplicated one. Thanks to their training, hands-on experience, and our advanced technology, our dentists are comfortable with any extraction. That includes complicated ones such as impacted wisdom teeth, a condition in which the teeth don't erupt completely through the gums. Our 3D imaging lets us see your teeth and all the underlying bone, tissue, and nerve endings, so we know exactly what we are facing before your extraction starts. There's no need to worry about discomfort, either. With a choice of an oral sedative or IV sedation, we'll keep you relaxed throughout your procedure.
You Can Get Other Oral Surgery Procedures Too
Tooth extractions aren't the only oral surgery procedures you can get at our office. Not surprisingly, given our expertise with dental implants, we can perform a bone graft or a ridge augmentation. These procedures are often used to strengthen the jaw in preparation for implant placement. In addition, we can repair receding or damaged gums with a gum graft.
For tooth removal in Hilliard, OH or other oral surgery procedures, call Just Smiles at 614-363-0030.