Fix Your Damage With Dental Crowns and Bridges in Hilliard, OH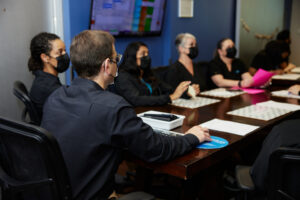 Dental damage can make it tough to perform some of the simplest everyday functions, like eating and even speaking. Our dentists can repair your damaged teeth and restore your full oral function with dental crowns and bridges.
Our dental restorations will:
Make your smile whole again
Look like your natural teeth, so they easily blend into your smile
Strengthen teeth and protect them from further damage
Last for decades with proper care
Give you the ability to eat whatever you'd like
Not pose long-term health concerns because they are metal-free
To see which dental restoration is right for your smile, call 614-363-0030. We're so confident in our quality, we offer a limited warranty on our porcelain crowns and bridges!
High-Tech Tooth Impressions Simplify Getting a Crown or Bridge
At most dental practices, getting impressions of your teeth involves putting messy molding material into your mouth. We use sophisticated scanning technology instead. Scanning is completed in seconds, with no discomfort. We send the 3D scans to the dental lab that manufactures our restorations. With such precise scans, it's easier to get a perfect fit. It also reduces turnaround time, so you won't have to wait as long for your crown or bridge.
With or Without Implants, Dental Restorations Repair Damage
A dental crown is our most versatile restoration because of all the problems it can solve. It can:
Repair a severely decayed tooth
Mend a cracked or broken tooth
Seal a tooth after a root canal
Cover cosmetic flaws such as a misshapen or severely stained tooth
Replace a single tooth when attached to a dental implant
Replace several teeth when used to create a dental bridge
With local anesthesia, getting a crown or bridge is a pain-free procedure. If you're still nervous, though, you can get dental sedation. To find out more about dental crowns and bridges, call 614-363-0030. In addition to Hilliard, we welcome patients from nearby communities like Galloway, OH and Dublin, OH.