Get Comfortable Oral Surgery in Hilliard, OH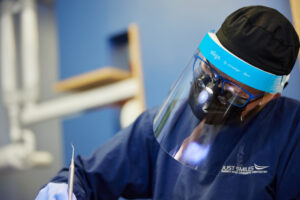 There are many reasons you may need oral surgery, from removing a badly damaged tooth that can't be saved to preparing your jaw for dental implants. No matter why you need it, our Hilliard, OH dental team will make sure your treatment goes smoothly.
You'll experience the Just Smiles difference with:
State-of-the-art technology that helps us better plan and perform your procedures
Same-day treatment, if you need it
Extended hours, so you can schedule your procedures when it's convenient
A choice of two kinds of sedation to soothe your nerves
Amenities to keep you comfortable
Experienced dentists you can trust with your procedures
If you need an oral surgery procedure, call us at 614-363-0030.
See Us for Bone Grafts & Other Oral Surgery Procedures
Our dentists can perform these oral surgery procedures:
Bone Grafts – We use this treatment to encourage new bone growth, often to improve bone quality for dental implant placement.
Ridge Augmentation – We can build up a jaw damaged by bone loss or injury.
Gum Grafts – We'll restore the appearance and health of gums that have receded due to gum disease or other factors.
Tooth Extractions – We can comfortably extract teeth, whether they need to be removed because they are damaged or to make room for dentures or other dental restorations.
Wisdom Teeth Extractions – It's often a good idea to remove wisdom teeth so they don't crowd or otherwise negatively impact nearby teeth.
Our Technology Helps Make Your Oral Surgery Procedures a Success
Our dentists use some of the latest dental technology to ensure your treatment is successful. For example, 3D imaging can show us your teeth and the underlying tissue, bone, and nerve pathways. Among other applications, we use it to select the best sites for dental implant placement and to see exactly where wisdom teeth are located in your jaw.
You'll feel better knowing your oral surgery is being performed by dentists who have been recognized by their peers for their skills. Call Just Smiles at 614-363-0030 to request an appointment, or use our handy online form. In addition to Hilliard, OH, we serve nearby communities like Galloway and Dublin.