Just Smiles in Westerville
Improve Your Look and Your Health With Your Westerville Dentist
Your family's care will always be comfortable, convenient, and comprehensive at our Westerville, OH dental practice. At Just Smiles, we care as much about the people behind the teeth as we do about the teeth themselves. We have some of the most skilled dentists in central Ohio, including one who has been selected by peers as a top dentist in Columbus for six consecutive years. At our office, we offer comprehensive services from cosmetic treatment like teeth whitening to restorative and preventive procedures like root canals. Trust us to have the latest and best in dental technology so that your treatment is the highest-quality. We also have a
Just Smiles Dental Plan
that can save you money and spare you inconvenience.
Just Smiles Dental Plan
If you don't have dental insurance, it's even more important not to neglect routine dental care like exams and cleanings. Preventing problems is much less expensive than treating them, which is why we encourage everyone, particularly the uninsured, to check out the benefits of our Just Smiles dental plan.
Learn More
Enjoy the Just Smiles Difference in Westerville, OH
We want to keep your visit to Just Smiles as convenient as possible. From the time you schedule an appointment to the time you walk out the door, we'll do everything we can to make your time with us easy and comfortable. We stay open as late as 7 p.m., so you don't have to miss work to come see us. You're less likely to experience dental anxiety with our advanced technology that keeps procedures fast and pain-free. Plus, you can receive safe oral sedation and get same-day emergency dental care, and our Just Smiles Dental Plan is an affordable insurance alternative that simplifies payment. To help ensure you get the services you need, we also offer free second opinions.
Get Comprehensive Dental Care for Your Family in Westerville
We know you don't want to visit multiple specialists for your family's dental needs. Multiple visits make scheduling, transportation, and payment more complicated than they should be. Thanks to our top technology and skilled dental team, we are able to perform all the in-house services you're likely to need. We even offer a warranty on most dental restorations, so you can be fully confident in the quality of our work. Our services include:
Our dentists use state-of-the-art technologies, like
dental lasers
, digital tooth impressions, and 3D imaging so you can trust all your procedures with us will go smoothly. For treatment from some of Ohio's most skilled dentists, call
614-392-7109
. Our Westerville, OH dentist office is located in the Northridge Crossing Plaza next to the Giant Eagle. In addition to Westerville, we serve nearby communities like Columbus, OH and Sunbury, OH.
New Patients Online Offer
Free
3-D Scan and Consultation for Dental Implants
($450 Value)
Contact Us
Meet Our Doctors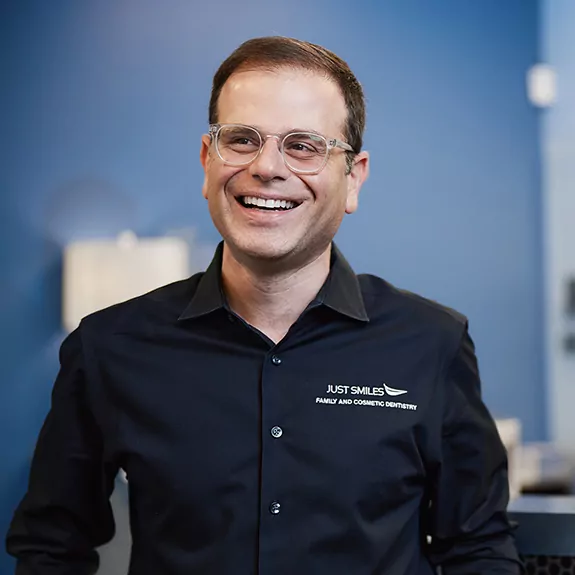 Phil Chahine, DMD, FAGD
Dr. Phil Chahine became a dentist to offer compassion while helping people achieve their dream smiles. The most rewarding part of his job is seeing the confidence patients regain when they feel good about their smiles. A highly trained and experienced dentist, he believes each patient is unique and different, so each requires personalized and individualized care. Dr. Chahine's philosophy is to treat his patients like friends in a professional, state-of-the-art, nonthreatening environment. He takes the time to listen to their needs and help them understand their treatment.
Testimonials
Great atmosphere and environment! The office is well presented, easily accessible. The part I loved most was the honesty, openness and friendliness of Dr. K and the other employees such as my dental assistant Kira who helped me get accustomed to the dental office as it was my first time. They very easily added my insurance and provided any estimates. I also liked the fact that they have forms they send out via phone as sitting for about 10 minutes filling out paper work can be obnoxious.
Kolten H.
Love, love, love this practice!! My family has been going to this practice for 10+ years. I started going to this practice because it looked very kid friendly but I go there too! They are great with kids and adults. My kids always have positive experiences so they don't mind going to the dentist. No long waits in the lobby! All the current technology. Friendly, helpful staff.
Erin L.
Shannon cleaned and polished my teeth. And she applied floride protection. She was polite and respectful. It really was a great experience. All the staff were good 👍 I highly recommend Just Smiles.
Jeremy J.
I've been going to Just Smiles in Hilliard for almost 20 years now. I'm constantly amazed at how they get me and my entire family in and out on time, every appointment. Incredible.
Luke P.
Dr Patel is awesome and very understanding about making me feel comfortable. Ariel is very friendly and helpful at the desk. Shannon did a wonderful job on my cleaning. Victor and the sweet brunette that made my crown to perfection needs a compliment also. It's a super clean environment which means a lot to me! Highly recommend!!
Paul R.
Get a Free Virtual Consult from Our Dentists
And Learn About the Options to Improve Your Smile
Upload a smile photo or area of concern.
We will create a personalized video with recommendations.
View your video and schedule an appointment.
Get Started
What Our Patients Say
"Dr. Phil and staff…will make you feel so comfortable. …If you are worried about anxiety or pain with the dentist, then you need to be here."

–Dee W.
"They do wonderful work here and I'm very happy with it. I'd recommend them to anybody."

–Jeffery S.
"I didn't think a lot of this was possible. I didn't think I could have a beautiful smile. I didn't think I could eat the foods I wanted to eat. …Here I am and I can do all of these things. It's amazing."

–Mollie B.
"I've routinely recommended Dr. Phil to family and friends. And one of the reasons why I have confidence in him is his credentials and now I now it is credentials combined with personality."

–Larae S.
Why Choose Us?
Our dental practice gets high marks from our patients and from other dentists, thanks to our modern technology, same-day care, patient amenities, and more. Call the location most convenient to you to see what else makes us stand out.