Dr. Phil Chahine became a dentist to offer compassion while helping people achieve their dream smiles. The most rewarding part of his job is seeing the confidence patients regain when they feel good about their smiles. A highly trained and experienced dentist, he believes each patient is unique and different, so each requires personalized and individualized care. Dr. Chahine's philosophy is to treat his patients like friends in a professional, state-of-the-art, nonthreatening environment. He takes the time to listen to their needs and help them understand their treatment.
Dr. Chahine graduated in 2001 from the University of Montreal with a Doctorate in Medical Dentistry (DMD) degree at the age of 22, making him one the youngest graduates ever for a DMD or DDS program. He completed his postdoctoral advanced training at The Ohio State University Medical Center, earning a GPR certificate. In 2007, Dr. Chahine received the prestigious Fellowship of the Academy of General Dentistry (FAGD), a distinction awarded to only 7 percent of North American dentists and symbolizing excellence in the dental profession. He is one of the youngest dentists in the country to ever receive this award, thanks to his commitment to providing the highest quality of dental care by remaining current in the profession.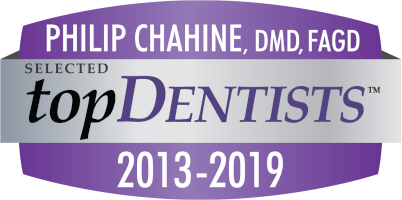 Dr. Chahine is one of the premier dental providers in central Ohio. His peers voted him Top Dentist in Columbus in 2013, 2014, 2015, 2016, 2017, 2018, 2019, 2020, and 2021 in surveys published in the Columbus Monthly magazine. He is also an Invisalign Premier Provider, having completed over 200 cases of clear aligner treatment over the years. Additional training and recognition includes:
Associate Fellow of the World Clinical Laser Institute
Member of the Academy of Laser Dentistry
Trained in the DOCS (Dental Organization for Conscious Sedation) sedation protocols, so he can make your visits more comfortable
Published research on dental plaque
Dr. Chahine undertakes regular postgraduate education classes to stay updated on the latest techniques and materials available in the world of dentistry. His extensive training covers many areas of dentistry, including endodontics (root canal therapy) and dental implant restoration. He has accumulated over 1,500 hours of continuing education since 2002, and he is on track to obtain the Mastership of Academy of General Dentistry (MAGD).
He also regularly lectures to the students at The Ohio State University School of Dentistry, where he is an Associate Clinical Instructor. In addition, he speaks at study clubs and other professional dental organizations. Finally, he serves as the Official Dentist for the Nationwide Children's Hospital Championship Golf Tournament, held yearly at The Ohio State University Golf Club.
Dr. Chahine lives in Bexley, OH with his wife Liz, daughters Leila and Ava, son Alexander, and their beagle Bonnie. In his spare time, Dr. Phil enjoys good food, skiing, golfing, and traveling. He is a huge fan of the band U2 and an even bigger hockey fan, mainly rooting for the Montreal Canadiens and hoping they win the Stanley Cup every year! He no longer gets on the ice himself due to injuries.
Feel free to email any questions to Dr. Chahine, including inquiries about possible speaking engagements.