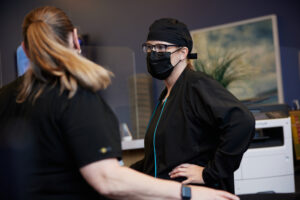 Get Personalized Care
At Just Smiles, we do not just take great care of your teeth, we take great care of the rest of you too. We build strong and lasting relationships with our patients, so we understand your dental concerns and your treatment preferences.
Experience the Just Smiles difference, and get the kind of personalized dental care you won't find at practices owned by big corporations. Drs. Chahine, Thompson, Hatahet, Akah, and Patel want to make sure that your comfort and understanding of your treatment is their number one priority.
Dr. Phil Chahine on why patients should choose his practice
You'll appreciate:
Late evening appointments.
Free second opinions.
Same-day treatment as necessary.
A warranty for many of our services.
Lots of amenities, including high-speed internet access, Pandora, Netflix, and sound cancelling headphones.
Our practice offers:
Comprehensive care for your whole family, from dental exams to dental crowns.
State-of-the-art technology, including dental lasers and 3D imaging.
Mercury-free dental restorations.
Skilled dentists with special training in areas like sedation dentistry and laser dentistry.
Orthodontic treatment from an Invisalign Premier Provider.
A dental team who works at a pace that ensures your comfort.
An emphasis on building lasting relationships with patients.
Get the Highest Quality Care With State-of-the-Art Technology
To provide the highest quality of care, we've invested in some of the latest dental technology. Unlike some dentists who save high-tech tools for complex procedures, we use them throughout our practice.
Our technology includes:
3D Imaging | This is an invaluable tool for planning procedures like dental implant placement or wisdom teeth removal, as it gives our dentists detailed views of your teeth and underlying bone, tissue, and nerve pathways.
Digital X-Rays | Much faster and more comfortable than traditional x-rays, digital x-rays also use a fraction of the radiation.
Digital 3D Teeth Impressions | Getting impressions of your teeth is a hassle-free experience, with no messy goop needed.
Dental Lasers | We can use lasers for some treatments that once required a surgical approach. The result is minimal discomfort and a faster recovery.
Guided Dental Implant Placement | We don't wing it, we plan it! We place implants in the exact planned position every single time thanks to our guided implant placement technology. No free-handing or leaving it to luck. This ensures a precise fit with long term success.
You need advanced training and expertise to use this kind of technology, and our doctors have it!
We Back Our Work With a Warranty
We are so confident in the quality of our work that we back many of our services with a limited warranty when you keep your routine visits. Among the covered services:
Porcelain dental veneers.
Dental crowns.
Inlays and onlays.
Dental bridges.
For more information on the personalized dental care you'll receive at Just Smiles, contact us today.