Regain Your Smile With Implant Dentures in Westerville, OH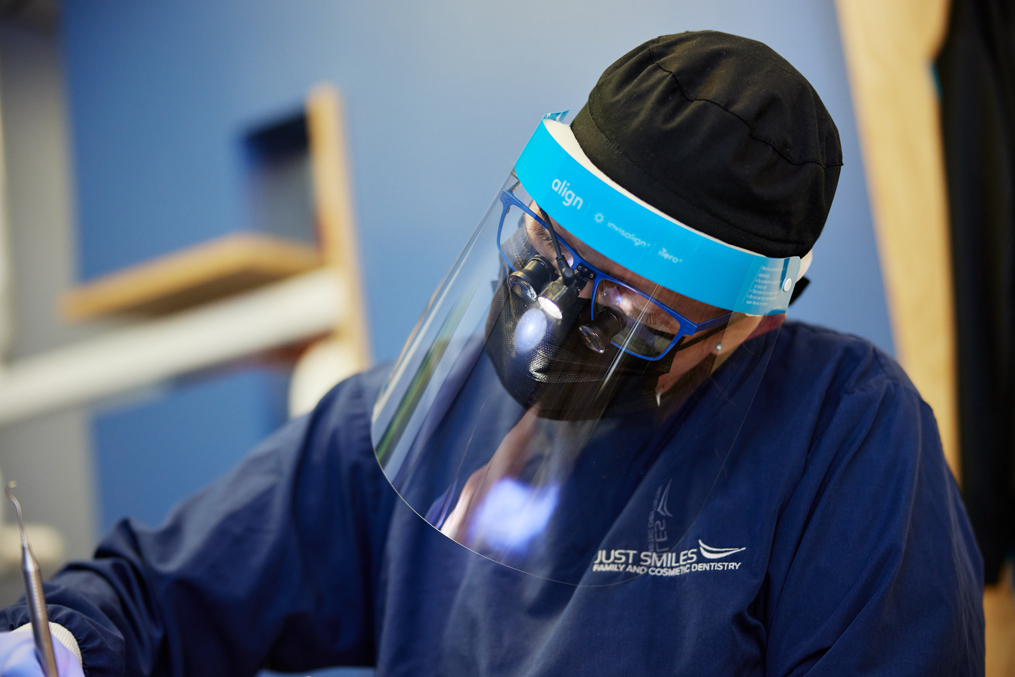 Dentures are one of the oldest dental restorations. They've helped hundreds of thousands of people throughout the years by restoring a full smile to patients who otherwise wouldn't have a full set of teeth.
While the materials used for replacement teeth have become more durable and natural-looking throughout the years, the basic idea hasn't changed. The most significant advance in recent years is the use of dental implants to secure dentures.
With implant-secured dentures, our team at Just Smiles in Westerville, OH, will be able to:
Replace anywhere from a few missing teeth to an entire mouthful of teeth.
Restore your oral functionality.
Improve your overall health by allowing you to eat a more varied diet.
Give your face a fuller and younger look.
Enjoy the Many Advantages of Denture Implants
For replacement teeth that feel and function the most like your own, we suggest implant-supported dentures. Their advantages include:
Stronger jaws. When you lose a tooth, you also lose those tooth roots. This causes your jaw bone structure to deteriorate over time. Implants function like replacement teeth roots, helping your jaw stay strong and healthy.
Replacement teeth that stay put. Dentures with implants won't move around in your mouth. They'll stay securely in place without adhesive, which means you won't have to worry about slippage or any unexpected movement.
Easy cleaning. Depending on the type of dentures you choose, you won't need to remove them for cleaning. You can just brush and floss as you always have and still experience great oral health.
Choose your preference. You can get dental implant dentures that only your dentist removes from implants or ones you can easily remove yourself for oral hygiene. We want you to be able to choose what's best for your lifestyle.
Permanent Denture Implants vs. Removable Implant-Supported Dentures
There are two particular types of denture implants patients can choose between. The first is permanent denture implants. These are secured in place through four dental implants and will not be able to be taken off at all by the patient. They will look, act, and function exactly as your normal teeth would.
Patients who want similar benefits at a lower cost can also choose removable implant-supported dentures. This option involves four dental implants placed in the upper or lower jaw onto which the dentures themselves can be connected. They will hold firmly in place, without shifting or falling out. Patients will then be able to snap the dentures out for cleaning or sleeping at night.
Both options provide patients with a more secure solution to the problem of missing teeth.
All-on-4® Treatment Concept Dental Implants
We're particularly proud of our All-on-4® treatment concept. With the All-on-4® treatment concept, you can receive multiple artificial teeth—or even a full row of teeth—on just four dental implants. You can expect these new teeth to be completely stable and dependable, while only needing four dental implants rather than one per tooth.
With All-on-4® treatment concept implants, your smile will be restored completely. These teeth only need the support of four posts for full functionality. You'll be able to smile, speak, and eat normally again, all after a very minimal amount of dental treatment.
The Implant Dentures Process
Placing implant dentures requires multiple visits to your dental office. At Just Smiles in Westerville, OH, you can enjoy the process from start to finish with our team of doctors. This way, you have continuity of treatment and care, and we'll be able to walk with you every step of the way. Every part of the procedure will be monitored and tracked by our professional team.
The first step in the procedure is to schedule a consultation to see if this restorative option is a good fit for you and your mouth. Following that, we'll take detailed and very precise images of your mouth with our advanced dental technology. Our CT scanner and surgical guide will enable us to make sure you have the right dental implants selected for your mouth.
We'll place your implants during the next step of the treatment. After a recovery period, we'll then place a set of implants that will be a temporary fit until your final, permanent dentures are finished and ready. Once those are placed, you'll be finished with the bulk of the treatment. Careful monitoring will then take place over the next few months as you adjust to your new teeth.
Trust Your Implant Dentures Process to the Skilled Dentists at Just Smiles
Discover How Denture Implants Can Transform Your Smile Today
Get in touch with our team at Just Smiles in Westerville, OH, to learn more about our denture implant options.