Improve Your Smile With Dental Implants in Westerville, OH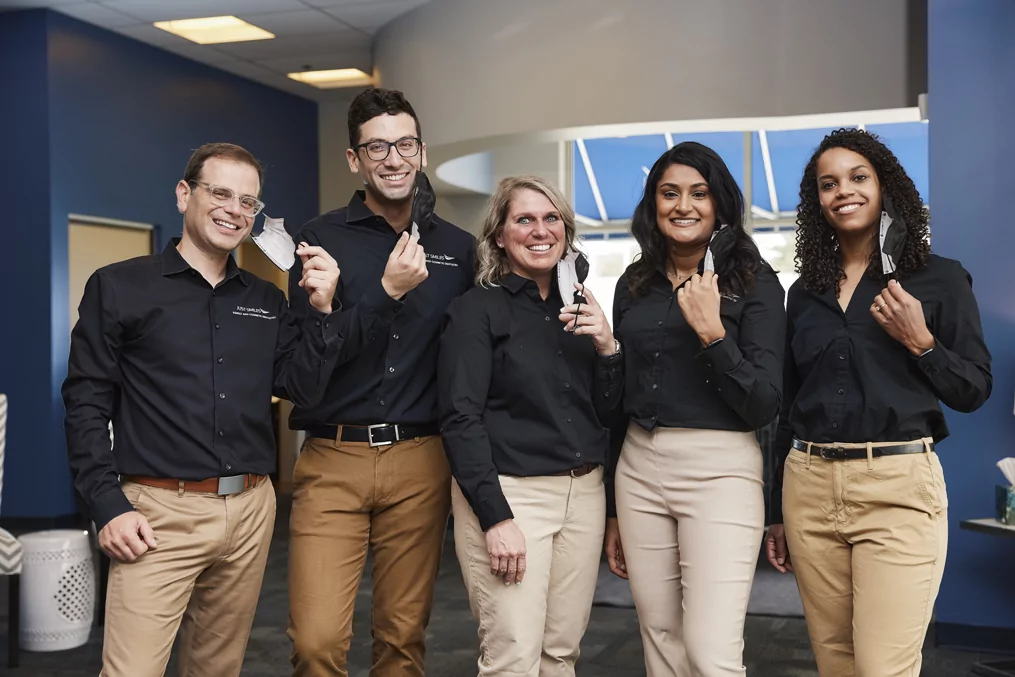 Your teeth are living things that need proper care and attention. Even with that care, sometimes there is nothing to be done and a tooth or several teeth need to be removed. Replacing these missing teeth will improve your smile and your health, and we have the technology to do it well.
Today, implant dentistry can transform smiles by restoring any gaps where missing teeth used to be. Because dental implants are embedded in your jaw, they're a no-fuss way to restore your smile. Once our Westerville, OH dentists attach a dental restoration to your implants, you may forget you even have them!
Benefits of Dental Implants
Dental implants come with many useful advantages and benefits, including the following:
Improved bone health. After you lose teeth, your jaw bone begins to deteriorate. This is a common and natural thing because without the tooth roots to grow around, the bone doesn't have any reason to be there. Implants stimulate your jaw the same way tooth roots do, so the bone density in your jaw stays healthy and strong.
Excellent oral function. Traditional dentures are hard to hold in place firmly and can be tricky to eat with. In fact, there is some danger of them falling out during meal times. You won't experience this with dental implants. They are held in place securely and won't be moving around. Implants give you a bite strong enough to eat whatever you'd like.
Beautiful appearance: Dental implants restore your smile in a naturally attractive way, and you can expect your implants to even match the shape and color of your neighboring teeth. You and anyone else who sees your smile won't even be able to tell which teeth are implants and which are natural.
Easy to care for: Depending on the kind of replacement teeth you choose, you'll care for them simply by flossing, brushing, and staying on top of your regular trips to the dentist.. Traditional dentures require occasional relining to ensure they continue to fit, but you won't have these fit issues with implants.
We'll refer you to our nearby Hilliard, OH location for dental implant placement.
Once your implants are ready for restoration, you'll return to our office to get your new teeth. With great communication between our dentists, your dental implants procedure will be seamless. To talk to us about implants, call 614-392-7109.
Am I a Candidate for Implant Dentistry?
Dental implants truly are one of the most valuable restorative dental options available. However, they do come with some requirements. You'll need to have all of the following to qualify for a dental implant placement:
Jawbone that is fully grown. We can't place a dental implant in a jawbone that isn't fully grown simply because it will change in size. This could result in needing a new implant placed later on.
Healthy oral tissues. You'll need to have good to excellent oral health before receiving an implant. This treatment is a surgical one, and just as for any other type of surgery, you'll need to be in good health so you can heal properly.
No existing health conditions that could affect healing. If you have existing health concerns that could prevent proper healing, you may not qualify for implant placement. We want your healing process to be as quick and easy as possible.
Adequate bone density in jawbone: Your implant will be situated in the existing jawbone for security. Having healthy bone density in the area to support your implant is vital. Without proper density, we won't be able to place an implant.
Patients who might not have enough existing bone density in their jaws have options, including a bone graft. This bone graft will take existing bone from somewhere else and graft it in the position where your new implant will be. This can create the needed support for your implant and enable us to restore any gaps in your smile.
Get a Dental Implant Procedure for One Tooth or Many Teeth
Dental implants will work for nearly any smile because they can replace anything from a single missing tooth to a full mouth of teeth. Your options include:
Dental implant with a crown. To fill a gap in your smile left by one or two missing teeth, you can use dental crowns attached to single implants.
Dental implants with a fixed bridge. You can replace several missing teeth with a bridge attached to implants.
Dental implants with dentures. We can attach full dentures or partial dentures to implants to keep them in place.
Dental implants take time to place, and the whole treatment from start to finish can take months. However, there are some implant dentistry options that can have your implants placed in just one day and one appointment. Ask us for more information!
How Much Do Dental Implants Cost?
Prices for dental or tooth implants are going to vary. This price can change based on any other procedural needs you might have, such as bone grafting for proper density.
For a full set of implant-supported dentures, the cost could be significantly higher than a single implant.
Get Your Teeth Restored With Skilled and Experienced Dentists
Get in Touch With Us at Just Smiles in Westerville, OH, Today
You don't have to live with discomfort or pain caused by gaps in your smile. Contact us today to learn more about our implant dentistry options and how they can transform your smile.