Get Fast Relief With Emergency Dentistry in Hilliard, OH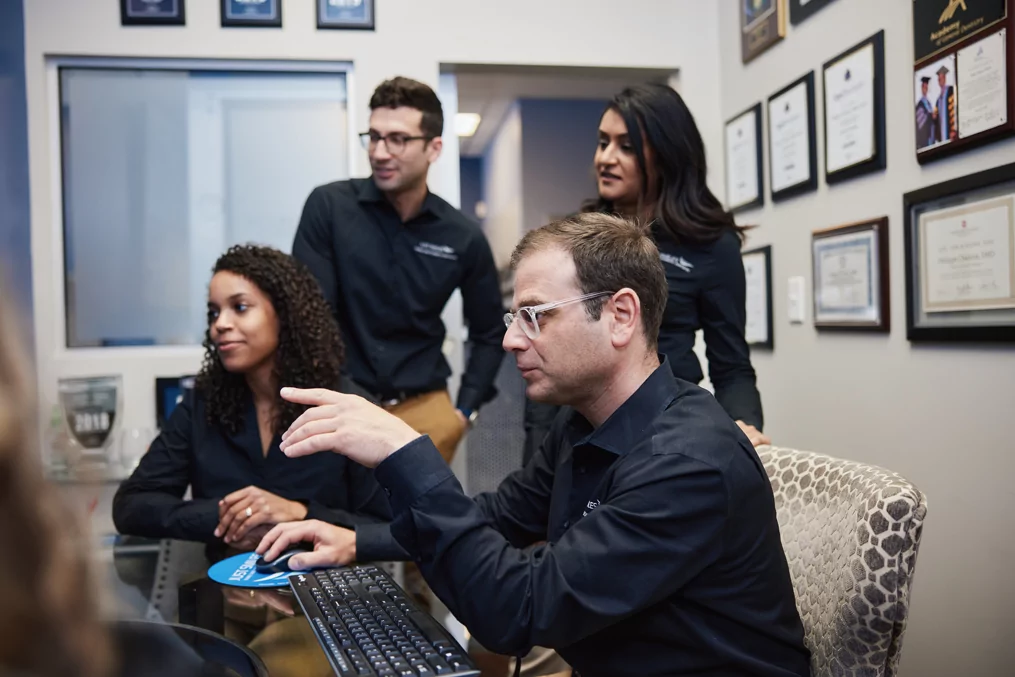 For most people, dental emergencies can be traumatic experiences. But they don't have to be! At Just Smiles, our Hilliard, OH, dentists eliminate the trauma with prompt, gentle emergency dentistry care. If you or a loved one experiences something that requires urgent dental care, you can trust our skilled team to provide you with treatment quickly and effectively.
We have five dentists working at our Just Smiles Hilliard, OH, location. This means we're more than fully equipped to provide same-day emergency dental care. We'll relieve your pain as quickly as possible and lessen the chance you'll suffer more extensive damage.
We make time in our schedules to provide same-day emergency dental care. Even if you call after hours, you'll be connected with a dentist who can provide care or offer advice on handling your emergency until we can see you.
You'll be well taken care with our emergency dentistry thanks to:
Restorative dentistry. We offer a wide variety of restorative dentistry to fix problems like cracked, broken, or infected teeth.
Dental sedation. At Just Smiles, we have two kinds of dental sedation to calm you during even the most anxious moments.
Trained Team. Our dentists have advanced training in specific techniques that save endangered teeth, including root canals.
Advanced Dental Technology: We use patient-friendly technology like lasers to keep your treatments as comfortable as possible.
You can get in touch with us at any time if you, a friend, or loved one experiences dental trauma or needs emergency dental care.
From Broken Teeth to Infected Teeth, We Can Fix It With Urgent Dental Care
No matter what caused your emergency dentistry problem, we have a procedure to mend your damage and get you feeling better. We may treat you with:
Tooth fillings. If cavities are causing pain, we'll use metal-free fillings to repair them. For larger cavities, our dentists may use a restoration like an inlay or onlay instead.
Dental crowns. A crown can be used to repair many kinds of dental damage, including broken or cracked teeth.
Root canal. If your toothache is caused by infection, we'll remove the infected material during a root canal procedure. This relieves pain and prevents infection from spreading.
Tooth extraction. In some cases, removing a tooth is the best choice for your overall health. Our dentists can comfortably extract problematic teeth, including wisdom teeth.
Severe toothache. Severe toothache can be an indicator of problems beneath the surface of the gums. We will treat this dental pain and correct any related problems.
Chipped teeth. Teeth are fragile and are prone to damage. If you chip a tooth, you can come see us. We will use restorative treatments to correct the emergency.
Broken or cracked teeth. Teeth can break or crack for any number of reasons. Whatever the cause, we will be able to address the problem and solve it.
Knocked out teeth. If you've lost a tooth, handle it carefully. Don't touch the root. Keep it viable by putting it in a glass of milk and come to see us as quickly as possible.
Loose or dislodged tooth. Permanent teeth should never feel loose. If you've got a loose tooth or a tooth that's dislodged completely, contact us as soon as possible.
Abscesses. A dental abscess occurs when the pulp of a tooth is infected. If left untreated, that infection can spread. Come see us if your tooth is inflamed or painful.
If you think you're experiencing a dental emergency, even if it's not one of the conditions mentioned above, call us! No matter what dental problem you're experiencing, we want to help.
Whether it's an emergency or a more routine procedure, we can get you the urgent dental care you need. We also offer a warranty for crowns and some other dental restorations.
Your Emergency Dentistry Is in Skilled Hands at Just Smiles
Contact Us Right Away When You Need Emergency Dental Care
Don't let dental emergencies get you down! Call Just Smiles at 614-363-0030 for same-day emergency dental care.