Brighten Your Smile With Teeth Whitening in Hilliard, OH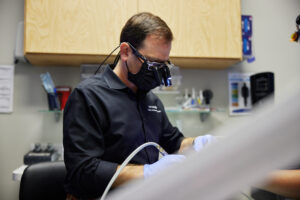 If you drink a lot of coffee, you might feel bright-eyed and bushy-tailed – but your teeth may not be as bright as they once were. Coffee can stain your teeth and make them look dingy. Even if you're not a coffee drinker, other foods and drinks can stain your teeth. Fortunately, teeth whitening will get your smile white and bright again.
With our professional teeth whitening:
You can get treatment in our Hilliard dentist office or choose home treatments to whiten any time you'd like
You'll get better and faster results than with drugstore products
You'll take years off your smile by removing surface stains
To whiten your smile, call 614-363-0030.
Skip Drugstore Teeth Whitening Products for Best Results
Whitening products sold in drugstores simply aren't as effective as professional teeth whitening treatments. Whether you choose a treatment in our office with Zoom whitening or professional-strength products to use at home, our treatments are:
More Effective – They contain a higher percentage of whitening ingredients than products sold in stores.
Easier to Use – Whether we apply the gel for you in our office or provide you with custom-made whitening trays to use at home, you'll get complete coverage without irritating your gums.
Backed by Our Team – If you have any questions or experience any problems, our team is readily available to help you out. Unlike a website FAQ, we'll make sure you get all of the information you need!
Cover Especially Tough Stains With Cosmetic Dental Treatments
Some stains respond better than others to teeth whitening treatments. Our dentists can advise you on whether whitening or one of these other cosmetic dentistry procedures will work best for your smile:
Dental Veneers – These restorations last at least a decade, and often much longer.
Tooth Bonding – Our dentists apply tooth-colored resin to your teeth in this quick and affordable treatment.
Dental Crowns – A crown not only beautifies teeth, but it also strengthens them too.
Interested in teeth whitening? Call 614-363-0030.