Transform Your Smile With Porcelain Veneers in Hilliard, OH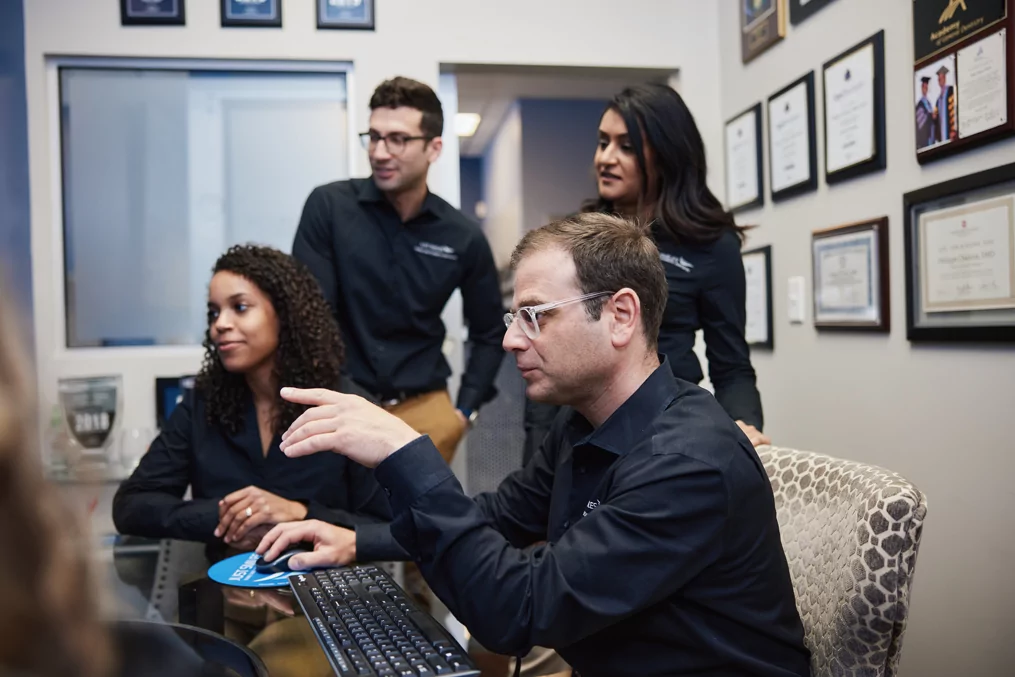 Teeth are just as susceptible to breaking, chipping, or cracking as any other part of the body. Your teeth are living things that require proper care and attention to stay healthy and strong. It's important not to neglect them when they need care the most. At Just Smiles in Hilliard, OH, you can trust our team to take care of your smile from the roots to the crowns.
Thanks to advances in dental technology and treatments, you can enjoy a beautiful, stunning smile that is as healthy and strong as it is lovely. One of the best cosmetic treatments we offer both protects and enhances your teeth, giving them a whiter, more uniform appearance. Get your best smile yet with our dental veneers.
Dental veneers are layers of porcelain or composite resin placed over the top of a tooth. They are put on top of the front, most outward-facing teeth in a patient's mouth. Tooth veneers are a great cosmetic and restorative option to consider for the following reasons:
Non-Invasive. Depending on the kind of veneer you choose, we'll need to remove only a tiny amount of tooth enamel, and some veneers require no enamel removal at all!
Comfortable. Once we've securely bonded veneers to the front surfaces of your teeth, you'll forget you even have them.
Beautiful. Our veneers are made of stain-resistant materials that resemble natural tooth enamel, so they blend in seamlessly with your smile.
Versatile. You can alter the size, shape, and color of your teeth with veneers, in order to reshape your smile.
Durable. With proper care, veneers should last many years and can be a long-term part of your improved smile.
To talk to one of our cosmetic dentists about veneers, call 614-363-0030. Cosmetic dentistry consultations are free!
Benefits of Dental Veneers
Dental veneers are both a restorative and cosmetic dental option. They can beautify teeth as well as restore them from chips, cracks, and breaks. As we've mentioned, teeth are susceptible to damage and disease. They can break, chip, or crack for just about any reason, from the food you eat to a sports injury.
When your teeth become damaged in this way, they are at greater risk of disease and discomfort. All of this can be prevented easily through the placement of dental veneers.
Benefits of dental veneers include:
Cover chips, cracks, and discoloration. Teeth tend to accrue many little chips, cracks, and areas of discoloration. This happens quite naturally as we grow up. Veneers can combat these imperfections by covering them up completely.
Prevent tooth discoloration. When veneers are placed, you won't have to worry about your teeth becoming discolored. The porcelain layer over your teeth will stop discoloration from happening, keeping your teeth bright and white always.
Low maintenance. Once placed, porcelain veneers require little to no maintenance. You simply need to keep up a good routine of regular brushing, flossing, and dental appointments.
Protect and strengthen teeth. Veneers not only make your smile look lovely, they also protect it. They act as a shield to protect your teeth from further damage in the form of chips, cracks, or breaks.
Tooth veneers offer the benefits of both cosmetic and restorative dentistry. You can trust our talented and skilled team at Just Smiles to help you decide whether porcelain veneers or prepless veneers are right for you and what your next steps should be.
Select the Right Veneers for Your Smile
We believe in your smile. Just Smiles is dedicated to providing you with the customer-centered treatment you deserve. We treat people, not just teeth, and our goal is to ultimately provide you with both your healthiest and most beautiful smile. In order to do so, we place unique emphasis on working closely with you. After all, this is your smile and your oral health we're talking about.
Because every smile is different, we offer several different kinds of tooth veneers, including prepless veneers. In a free consultation, your dentist will help you determine which dental veneers are the best for you. Other factors to consider are the condition of your teeth, cosmetic issues you are trying to address, your overall oral health, and your budget.
Your options for dental veneers with us include:
Porcelain veneers. This veneer is the most versatile as it can cover virtually any flaw, including staining, misshapen teeth, chips, and gaps.
Lumineers veneers. Because Lumineers are so thin, we'll remove little if any enamel from your teeth. These are also sometimes called prepless veneers.
Prepless veneers. Little if any enamel will be removed from teeth, so the process of prepless veneers is faster. Lumineers fall under this category.
We Have the Right Dentists for Your Smile Transformation
Discover a Whole New Smile With Dental Veneers
At Just Smiles in Hilliard, OH, we're confident in the quality of our tooth veneers, and we're sure you will be too. Enjoy a limited warranty on our dental veneers. To schedule a free consultation for tooth veneers, call 614-363-0030. You'll find our Hilliard, OH, office near Raymond Memorial Golf Course.