Gum Reshaping in Hilliard Will Give You a Less Gummy Smile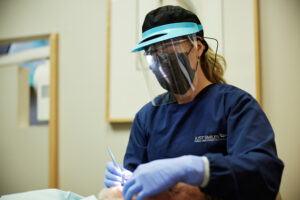 Your teeth should be the focus of your smile, but an excess of gum tissue can overshadow them. If you have a "gummy" smile, our dentists can give you the perfect balance of teeth and gums with gum reshaping in Hilliard. They'll use a laser to quickly and comfortably remove excess tissue. No cutting and no stitches!
This cosmetic dental treatment will:
Make your teeth the focal point of your smile
Even out your gumline
Give you a more confident smile
If you're not happy with your gummy smile, call 614-363-0030 for an appointment with one of our cosmetic dentists.
No Scalpels or Stitches Are Needed for Gummy Smile Treatment
We use our dental laser to eliminate incisions and stitches from procedures that might otherwise need them. Several of our dentists have been certified by the World Clinical Laser Institute, so they are up-to-date on the latest treatment techniques. Our laser keeps your gum reshaping procedure fast and comfortable. There will be little if any bleeding, and you'll experience a fast recovery. We use our laser for other procedures too, including nonsurgical gum disease treatment.
Further Improve Your Smile With Cosmetic Dental Treatments
There is definitely more to your smile than your gums. You can improve other aspects of your smile with our other cosmetic dentistry procedures. They include:
Dental Veneers – Conceal many different kinds of flaws, such as chips, stains, gaps, and worn-down teeth, with these thin "shells" of porcelain we apply to the front surfaces of your teeth.
Tooth Bonding – Our dentists can cover small imperfections with tooth-colored resin in a single appointment. Unlike some other cosmetic treatments, bonding is reversible.
Teeth Whitening – You have a choice of a treatment in our office or a take-home kit with professional supplies. Either way, you'll get far whiter results than from over-the-counter products.
Invisalign Orthodontics – You won't believe how convenient it is to straighten your teeth with clear aligners instead of metal brackets and wires. You can take out your aligners for meals, and even for special occasions.
If you're interested in gum reshaping in Hilliard, call 614-363-0030 for a consultation with one of our cosmetic dentists. In addition to Hilliard, we welcome patients from nearby communities like Galloway, OH and Dublin, OH.