Save Infected Teeth With Root Canals in Hilliard, OH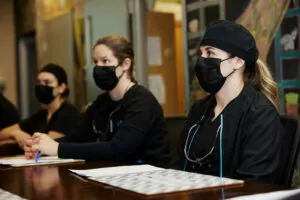 Root canals don't deserve their scary reputation. They relieve pain, not cause it. While we understand you may not be thrilled if you need a root canal procedure, our Hilliard, OH dentists will make sure it goes well.
At our office, you'll find:
Dentists with advanced training in endodontics (root canal therapy)
A choice of two kinds of safe dental sedation
Technology like 3D imaging, which helps us better plan and perform your procedures
Same-day care, in many cases, to get you out of pain fast
If you think you may need a root canal, call 614-363-0030 ASAP.
Keep Your Tooth Intact to Save Time & Money
When the center of a tooth becomes infected, the two usual choices for treatment are a root canal or an extraction. Whenever possible, we recommend keeping your tooth intact. Not replacing a missing tooth can lead to bone loss and other issues such as misaligned teeth. While we can replace lost teeth with dental implants and other options, it will involve more time, expense, and hassle than a root canal procedure.
Bring Back Your Smile With a Root Canal Procedure
A root canal restores the function of your tooth and brings back your smile. One of our dentists will remove the infected tissue from inside your tooth, thoroughly disinfect it, and fill the "canals" with a material called gutta-percha. The final step is usually getting a dental crown to seal your tooth and protect it from further damage.
The root canal procedure:
Eliminates infection before it causes bone damage and tooth loss
Keeps infection from spreading elsewhere in the body
Enables you to chew and eat without pain
Prevents the need for a tooth replacement
With over 15 years of experience and our cutting-edge technology, root canals are no big deal. Call 614-363-0030 if you have a toothache. We'll relieve your pain and restore your dental health. If you're worried about the expense of a root canal, consider using our Just Smiles Dental Plan, which offers a discount of at least 20 percent on our services.
Root Canal FAQs
How much does a root canal cost?
Root canals can vary in cost depending on the tooth. Molars are more expensive than other because of their location. Generally, a root canal costs between $700 – $1500.
Do I need a crown after a root canal?
A crown may be necessary after a root canal, but not always. Depending on how much of the healthy tooth is remaining after the root canal, a crown may be used to protect the tooth to prevent infection and decay.
How long does a root canal last?
In a study of nearly 500,000 root canals, 86 percent of root canals lasted 10 years or longer. The longevity of a root canal ultimately comes down to a number of factors like timing of treatment, location of the tooth, patient age and more.
How long does the root canal procedure last?
Root canal therapy may require one or two appointments. These appointments are about 30-60 minutes long, but can last longer for larger teeth like molars.
How urgent is a root canal?
Root canals can fall under emergency dentistry if they are serious enough. Tooth infections are extremely painful, and if left untreated for too long, can lead to serious complications including losing the tooth.