Enjoy Natural-Looking Restorations With Tooth Fillings in Hilliard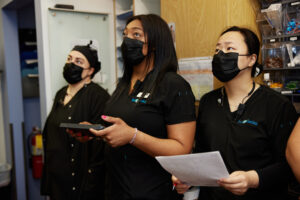 You want people to notice your teeth and not your dental restorations when you smile. That's why we use only natural-looking composite or porcelain, never metal, for our tooth fillings in Hilliard.
Our composite fillings and porcelain fillings will blend in easily with your smile. They also won't tarnish over time, creating unattractive dark spots. In addition to their aesthetic appearance, our fillings also:
Contain No Mercury – Metal (amalgam) fillings contain mercury. Both the FDA and the ADA consider mercury safe for use in dental restorations – however, we think it makes sense to avoid mercury whenever possible.
Require Less Modification of Teeth – Our dentists won't have to remove as much healthy tooth structure to place tooth-colored fillings.
Are Less Likely to Cause Problems – Due to fluctuations in temperature, metal tends to expand and contract over time. This can cause structural weaknesses like cracks.
It's easiest to repair cavities when they are small. We use laser cavity detectors during dental exams to identify them before they can be seen by the naked eye. Whenever possible, our dentists use air abrasion instead of a drill to repair cavities. To schedule your next exam, call 614-363-0030.
Fluoride & Other Treatments Help Prevent Cavities
We'll work with you to help prevent cavities from ever happening in the first place. Practicing good oral hygiene habits at home is an important part of cavity prevention. We suggest:
Brushing twice a day, for at least two minutes each time.
Using an ADA-approved toothpaste that contains fluoride.
Flossing every day.
Getting a professional cleaning and exam every six months.
Our dentists may also recommend fluoride treatments, dental sealants, or other preventive dental care.
A Crown or Other Dental Restoration May Be Needed for Large Cavities
Thanks to our laser cavity detectors, we often find cavities when they are small and simple to fix with a filling. But we may use one of our other dental restorations for larger cavities:
Dental Crown – Like our fillings, our crowns are metal-free. Porcelain crowns cause no dark line of metal at your gumline, resist stains, and last for many years. Our crowns even have a limited warranty!
Inlay or Onlay – These restorations cover the entire top surface and/or sides of a tooth. They are a more extensive fix than a filling, but a less major repair than a crown.
To visit a practice that avoids metal for tooth fillings in Hilliard and other restorations, call 614-363-0030.