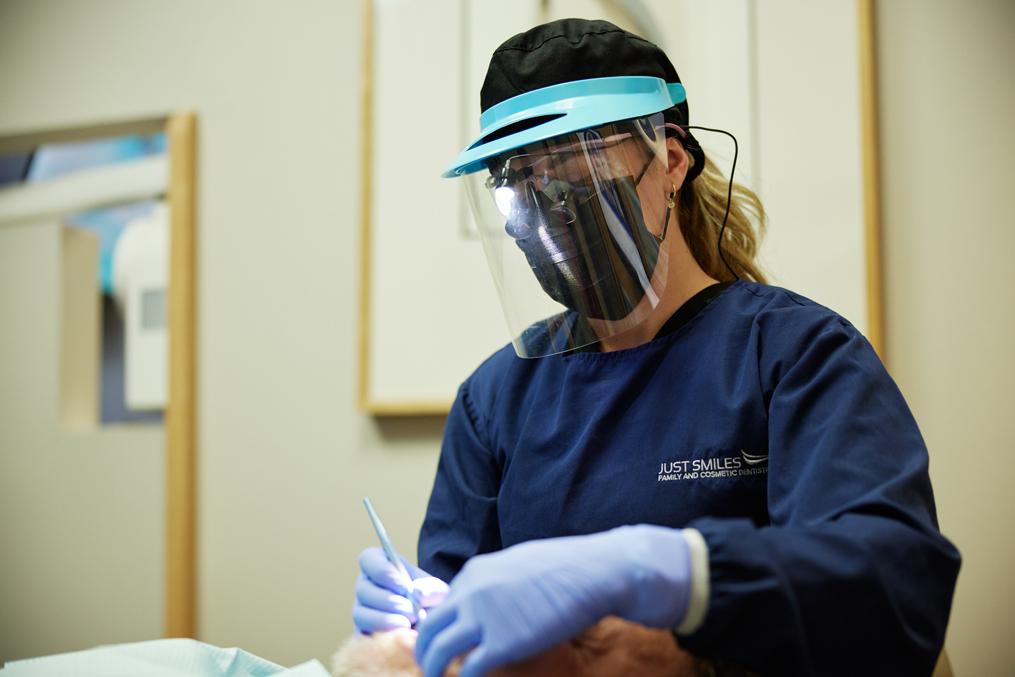 There are a lot of benefits to having a beautiful smile. If you're putting off making an investment in cosmetic dentistry, consider this: According to the American Academy of Cosmetic Dentistry, more than 99 percent of Americans consider a smile an important social asset, and three-quarters of adults believe an unattractive smile hurts your chances for career success.
Is Cosmetic Dentistry Right for You?
If those reasons aren't enough to sway your interest toward cosmetic dentistry, there's another very important benefit you'll enjoy with a cosmetically enhanced smile: greater overall oral health.
Teeth that are properly aligned and enhanced are easier to care for, both during your at-home routine and at dental cleanings. Issues and potential problems are more easily spotted and subsequently more quickly treated when your teeth are straight and healthy.
Don't let unhappiness with how your teeth look keep you from smiling! And consider the oral health benefits you'll enjoy as well. Our cosmetic dentistry will:
Increase Happiness: Every time you catch your smile in your reflection, you won't be able to help feeling satisfied and happy with your choice to trust cosmetic dentistry.
Boost Confidence: You'll find yourself feeling more confident in both business and social settings when you feel good about your smile.
Make Your Smile Youthful: A brighter, whiter smile will help you look and feel young. Dental repairs can also help strengthen the structure of your jaw!
Prevent Potential Disease: Cosmetic treatments can reduce your risk of tooth decay and gum disease.
Enhance and Strengthen Your Smile: Some cosmetic treatments can strengthen your teeth for improved long-term dental health.
Cosmetic dental consultations at Just Smiles are free—call 614-363-0030 to schedule one. Our Hilliard, OH, dentists will be happy to help you select the best cosmetic dentistry procedures for your smile!
Our dentists are among the most talented in the region, with years of experience and practice. You can trust our team to provide you with the best possible cosmetic treatment for your smile.
Types of Cosmetic Treatment with Just Smiles in Hilliard, OH
Some patients will need certain types of cosmetic care, while others won't. That's why we offer the full range of cosmetic dental treatments at Just Smiles. No matter what feature of your teeth or mouth you're wanting to enhance, we'll have the treatment for you. We offer the following types of cosmetic procedures:
Teeth Veneers.
Dental Bonding.
Invisalign Clear Aligners.
Gum Contouring.
Teeth Whitening.
Smile Makeovers.
Choose Teeth Veneers or Dental Bonding to Cover Imperfections
If your smile has stains, chips, or gaps, we've got two cosmetic dental treatments to conceal them:
Dental Veneers: Teeth veneers not only hide flaws but can strengthen teeth too. They are specifically designed to cover chips, cracks, or breaks in teeth while simultaneously making your teeth more uniform, whiter, and stronger. We offer several different options, including no-prep veneers that require us to remove little if any enamel from your teeth.
Tooth Bonding: During this affordable treatment, our dentists apply tooth-colored resin to teeth to cover imperfections. Dental bonding can be completed in a single office visit, and is also reversible. Dental bonding can seal up cracks, chips, or breaks in teeth as well as reshape a malformed tooth to make your smile more uniform.
Invisalign Aligners Straighten Your Smile Without Wires
If you want a straight smile but you don't want braces, you may be a good candidate for Invisalign aligners. Instead of metal wires and brackets, your teeth will be straightened with a series of smooth, clear aligners. Since the aligners are removable, you can eat whatever you'd like without your oral hygiene suffering.
Invisalign clear aligners can work even faster than traditional metal braces, and you won't have to suffer from the pain and discomfort that often comes with poking wires and metal brackets. Straightening your teeth is a good way to make them easier to clean and care for, and they'll look amazing once they're all positioned correctly.
Get Great-Looking Gums With Gum Contouring
Gum reshaping or contouring can be done quickly and easily with the help of a dental laser. Many patients can have their smile improved with evened out gums. This treatment helps patients in particular who have what is known as a "gummy" smile, where the gum line tends to extend down further over the teeth. Gum contouring can correct that easily.
We also offer teeth reshaping with dental lasers. We can make adjustments to the shape of specific teeth if any are malformed.
Get a Brighter Smile With Teeth Whitening
Teeth may naturally stain throughout your life. Sometimes what we eat or drink can seriously affect the color of our teeth, such as coffee, berries, soy sauce, etc. Teeth whitening can reverse that discoloration effect to enhance your teeth and brighten your smile.
The whitening agent we use is applied evenly to the outer-facing areas of your teeth. The agent reacts with the discolored molecules deep within your teeth that give your teeth a darker or yellowed appearance. This reaction breaks the bonds of the discolored molecules, giving your teeth a whiter, healthier appearance.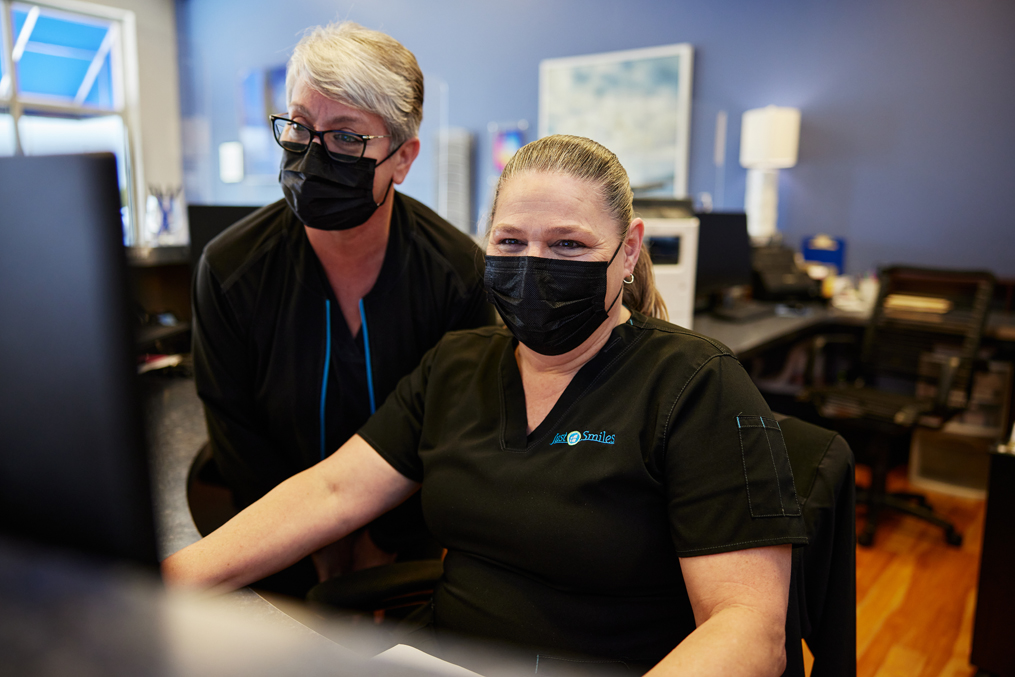 Smile Makeover
Many patients can benefit from one or more of our cosmetic treatments. Very few people are born with the perfect smile. At Just Smiles, we understand that. We want to help you have your best smile possible, which is why we offer smile makeovers.
Smile makeovers are personalized cosmetic dental plans created specifically for a given patient. If you need your teeth straightened but are also interested in teeth veneers, dental bonding, and gum contouring as well, we can set up and organize a smile makeover that will incorporate all of those treatments into one big procedure.
Each patient's smile makeover will be different, but that's what makes them so great: they're easily customizable to you, your needs, and your smile.
Come to Just Smiles for Cosmetic Care From Caring and Skilled Dentists
Cosmetic Dentistry FAQs
What is the best option for replacing teeth?
Dental implants are the most durable and longest-lasting option for tooth replacement. Other options like dental bridges or dentures are less reliable and may provide less strength and comfort.
How long does teeth whitening last?
Teeth whitening can last up to 3 years or as little as 6 months. The longevity of your teeth whitening will depend on your lifestyle habits, your care for your oral health, and tobacco use.
What does cosmetic dentistry fix?
Cosmetic dentistry can fix broken, cracked, or missing teeth, receding gums, overbites, and stained or discolored teeth. Cosmetic dentistry aims at fixing flaws in your smile.
Does insurance cover cosmetic dentistry?
Insurance typically does not cover cosmetic dentistry. However, some dental plans may cover partial cost if the primary purpose is to fix a structural issue.
Discover What We Can Do For Your Smile Today
At Just Smiles, we want to serve our patients in the Hilliard, OH, area with the best possible cosmetic dental treatments, including dental bonding, teeth veneers, Invisalign aligners, and more! Our talented and experienced dentists provide all the knowledge and hands-on know-how necessary to help you achieve your best and most beautiful smile yet.
To find out more about cosmetic dentistry, call 614-363-0030 or use our convenient online form. Remember, consultations with our cosmetic dentists are free. Our Hilliard, OH, dentist office is especially convenient if you live or work in zip code 43026.