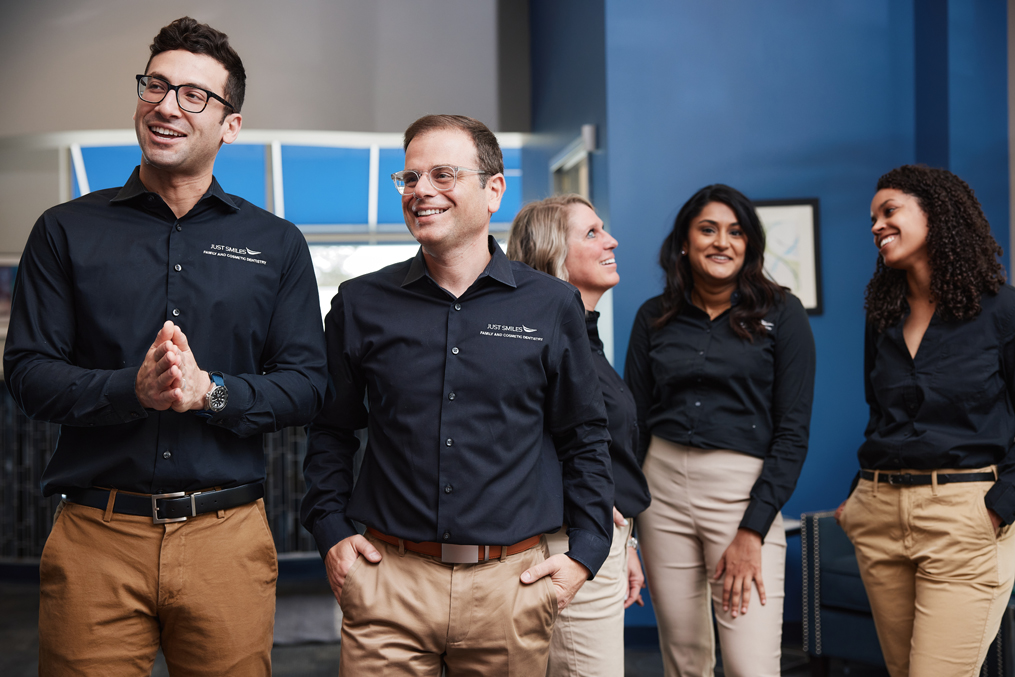 Having wisdom teeth pulled is a common and regular dental practice. Most patients don't need their wisdom teeth and many run health risks by allowing wisdom teeth to grow in, so having them removed is often as necessary as it is logical.
We want you to have access to your best and healthiest smile. Sometimes, wisdom teeth can get in the way of realizing that dream by crowding teeth or causing discomfort. This is why we offer wisdom tooth extraction at Just Smiles in Hillard, OH—you don't need to deal with wisdom tooth pain when we have a solution for you right here in our office.
Why Do We Have Wisdom Teeth?
Wisdom teeth are actually redundant molars. We naturally have two sets of molars at the back of our mouths, which are designed to grind down the food we eat into pieces we can easily digest. These molars are highly necessary to the food eating process, but we don't need three sets of them. In fact, most people don't have room in their mouths for this third row of molars.
When wisdom teeth are allowed to develop too far, they can become impacted. Impacted wisdom teeth mean they are trapped underneath the gum line, unable to emerge fully. They begin to push on the surrounding teeth—which can cause you to experience a great deal of sensitivity and pain in that area of the mouth.
Getting your impacted wisdom teeth pulled becomes crucial after a certain period of time—if left untreated for too long, impacted wisdom teeth can cause serious damage to your teeth.
Does Everyone Need Their Wisdom Teeth Pulled?
The vast majority of teenagers and adults can, and should, have their wisdom teeth pulled. Very few people have the natural jaw space to accommodate wisdom teeth, and removing them preemptively will prevent problems like crowded or impacted teeth.
In some cases, people might be born with fewer than four wisdom teeth, or no wisdom teeth at all. These fortunate people might not need a removal process at all, or can enjoy a less intensive tooth extraction, but these cases are fairly rare.
Lastly, some people have wisdom teeth that will never erupt. If your wisdom teeth are so deeply set in your jaw that it's clear they will never try to erupt, your dentist may tell you that having them removed is unnecessary. This condition can only be diagnosed by a dentist—you might hope your wisdom teeth won't erupt, but you'll need a professional diagnosis to be sure.
Wisdom Teeth Removal Process
The first step in the wisdom teeth removal process is to medicate the patient. At Just Smiles in Hillard, we offer two types of sedation for your wisdom tooth extraction:
Oral Sedation: Oral sedation involves taking a pill before the procedure.
IV Sedation: IV sedation administers mediation through an IV inserted into the patient's arm or hand.
Patients can opt for either option, although it's a good idea to listen to your dentist's recommendation on medication. Once we are sure the medication has taken effect and you won't feel any pain, the wisdom teeth will be skillfully and carefully extracted. This is a total extraction that includes the tooth and its roots in their entirety.
Following extraction, patients will be provided with a prescription for pain medication. The pain will wear away in a few days. Patients should avoid crumbly, hard foods in the meantime and stick to soft foods like yogurt, smoothies, or mashed potatoes.
A Skillful Wisdom Tooth Extraction From a Skilled Dental Team
Wisdom Teeth Removal With Just Smiles in Hilliard, OH
Contact our team in Hilliard, OH, today to learn more about our wisdom tooth extraction process or to schedule an appointment for your own. We're here to help protect your smile and oral health through the practice of wisdom teeth removal.