Avoid Dental Problems With General Dentistry in Hilliard, OH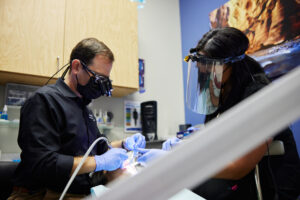 The best way to prevent problems like cavities and gum disease is to take good care of your teeth. That means seeing us for general dentistry, including regular dental exams and cleanings. It's a major focus of our Hilliard, OH dental team because early intervention helps avoid the need for complicated and costly procedures.
Our general dentists will:
Help keep your teeth in top condition
Address all your questions and concerns
Suggest preventive care like dental sealants and fluoride treatments to help you avoid decay and gum disease
Make suggestions for improving your home oral hygiene, diet, and other factors that affect your dental health
To improve your oral health with general dental care, call Just Smiles at 614-363-0030.
Protect Your Family's Teeth With Custom Mouthguards
If you or other family members participate in sports or other physical activities, our dentists can fit you for custom athletic mouthguards to protect your teeth and mouth. Made from impressions of your teeth, they:
Fit better and offer more protection than store-bought mouthguards
Stand up better to abuse, since they are made from premium materials
Can be customized with team colors and logos
Thanks to our iTero scanner, our dentists take digital rather than physical impressions of your teeth. No more mouthful of messy goop!
Defeat Dry Mouth, Bad Breath, & Other Problems
Because an ounce of dental prevention is worth a pound of cure, our Hilliard, OH dentists may suggest applications of:
Fluoride, to help strengthen tooth enamel and prevent cavities
Dental sealants, to provide a protective layer against cavity-causing bacteria
They can also work with you to identify the root causes of dry mouth, an uncomfortable condition that can lead to decay, bad breath, and many other problems. In many cases, prescription medications can affect your saliva production. We'll work with your physician to adjust medication, if appropriate. We can also provide professional products to relieve your symptoms.
To visit a practice where general dentistry is a top priority, call 614-363-0030. You can also contact us via our online form. In addition to Hilliard, OH, we welcome patients from nearby communities like Galloway, OH and Dublin, OH.