Keep Teeth Looking & Feeling Great With Dental Cleanings & Exams in Hilliard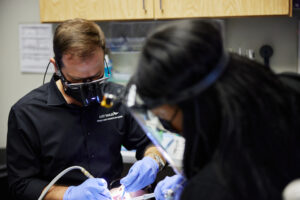 We realize it can be tough to make time in a busy schedule to visit us twice a year for dental cleanings and exams in Hilliard. We've done everything we can to make it easier for you, though, including:
Giving you scheduling options as late as 7 p.m. and Friday appointments too
Providing child-friendly "happy visits" to make our youngest patients comfortable
Offering comprehensive dentistry, so you won't need to visit outside specialists for any of your procedures
Listening carefully to your concerns and questions so together we can create a treatment plan that will help you achieve all your smile goals
It's important not to skip regular exams and cleanings because they give us an opportunity to identify problems when they are easy to treat. While small cavities can be treated with a filling, larger ones will need a dental crown. Worse, if decay gets inside your tooth, you may need a root canal. Keep problems small with routine dental care! Call 614-363-0030 to schedule your next exam.
We Won't Miss a Thing With Our Top Technology
Dental decay isn't the only thing that can wreck your oral health. During dental exams we also look for signs of dry mouth, bruxism (teeth grinding), gum disease, and even oral cancer. To make sure we don't miss anything, we use some pretty high-tech tools. They include:
Intraoral Cameras – We can see into every part of your mouth with these handheld cameras, with less poking around. We'll share images with you to better explain all of your possible treatment options.
Laser Cavity Detectors – The smaller the cavity, the easier it is to treat! These tools use laser technology to reveal cavities in their earliest stages. We'll use air abrasion to comfortably treat small cavities – no drill needed.
Digital X-rays – We can enlarge or otherwise sharpen digital images for a better view. They are also quicker and more comfortable for you than traditional X-rays. Plus, they only use a fraction of the radiation of film X-rays.
Your exam also includes a thorough dental cleaning so your smile looks and feels great! To make appointments for your family's dental cleanings and exams in Hilliard, call 614-363-0030.