Smile Makeover in Hilliard Gives You a Whole New Look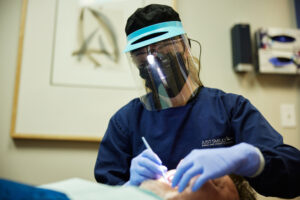 If you want a complete smile makeover in Hilliard, our team can help you create a plan that fits your schedule, your budget, and your lifestyle. Whether you'd like to fix a single small flaw or completely transform your smile, our dentists can help!
As part of your makeover, we may recommend:
Your makeover will be comfortable and convenient, thanks to our use of cutting-edge technology like 3D imaging and digital tooth impressions. In some cases, you'll even be able to get a digital preview of your new smile's appearance. Get your makeover started by scheduling a consultation with one of our dentists. Call 614-363-0030 to schedule one.
Fix Many Smile Flaws With Cosmetic Dentistry Procedures
Your cosmetic dental options range from small but significant improvements like teeth whitening to treatments like dental veneers that can completely alter the appearance of your smile. Our procedures include:
Teeth Whitening – You can get treatment at our office for fast results or choose at-home whitening for the ultimate in convenience.
Invisalign Orthodontics – Clear aligners straighten your teeth in less time than metal braces, and they can be removed for convenient care.
Dental Veneers – These are the same restorations many celebrities use to get their smiles ready for their close-ups.
Tooth Bonding – You can hide minor flaws like chips and stains with this procedure.
Gum Reshaping – A laser makes it easy for our dentists to painlessly remove excess gum tissue.
Transform Your Smile With Implants & Other Restorative Treatments
We also offer many restorative procedures that can improve your smile's functionality as well as its appearance. Among your choices:
Dental Implants – Your smile will look, feel, and function better than ever with replacement teeth anchored to dental implants.
Dental Crowns – Since it completely covers your entire tooth, a crown hides many kinds of damage while strengthening your tooth.
Dental Bridges – You can replace a single tooth or several missing teeth with a bridge. We can avoid modifying healthy teeth by using dental implants to support a bridge.
If your makeover involves treatments that take some time to complete, consider using a Snap-On Smile®, an affordable custom-made prosthetic that fits snugly over your teeth to hide what is underneath. Many of our restorations, including crowns and veneers, include a limited warranty!
If you want a smile makeover in Hilliard, call Just Smiles at 614-363-0030.